Beachcliff Roomsand Apartments
Beachcliff Rooms and Apartments is a premier accommodation has the best view of the Bristol channel, the Avon and North Devon Coastline, as well as the famous Edwardian Pier. It is situated literally on the beach and has all the delights of the restaurants on the Esplanade.
Penarth appears in "The Times" and other places is the top 10 Seaside town in Wales. Cardiff is a bus or train ride away, and it regarded as one of the best shopping cities in the UK. We offer a range of options to suit the needs of all our guests, from rooms to self-catering apartments.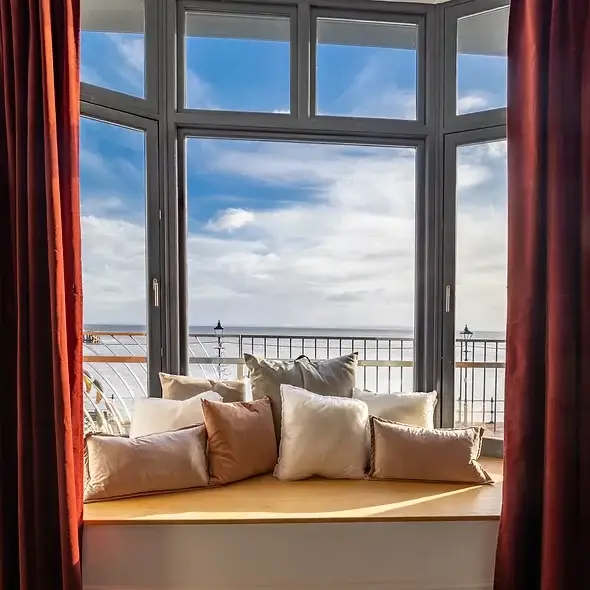 We pride ourselves in rooms to offer quality, design and comfort in a quiet environment.
The Apartments are spacious inviting places, with the wonderful sea views, and with deluxe rooms facing the sea, some with balconies and facing the gardens, where you can sit and enjoy a moment to yourself.
At Beachcliff Rooms and Apartments, we pride ourselves on ensuring that every guest has a memorable stay. 
Read our Facebook for special events taking place in the area, we will update our Facebook page every month to give you what's on.
We are also offering the opportunity for people to go on a motoring tour, driving classic cars to Tenby, then onto St Davids and arriving at Penarth for lunch. Rain or shine the cars will go up to 9 of them for a trip to remembered. If you wish to join the trip, please let us know.
Beachcliff Featured Appartments
GUEST ACCESS
Access is via lockbox, As you approach the hotel entrance you can find the entrance gate on the right side of the building.
CAR PARKING
Due to the unique position of the hotel, we are unable to offer dedicated parking but there are spaces along the Esplanade, along Cliff Road and at Cliff Parade Car Park.
FREE WI-FI
We are delighted to offer complimentary Wi-Fi access, thought our rooms and appartments.